Appointed Representative Program
Do you live in a state that we do not currently hold a state event, but you are between the ages of 4 and 24? This is your chance to represent and serve your state all year long as National American Miss State Royalty!
National American Miss is the largest pageant in the nation for young women. We are so excited to extend an invitation to you to be a part of our program! At this time, we are not offering a program in your state for your age group. However, we hope you will be a part of our Appointed Representative Program. The girl that is selected as the State Queen will be given the opportunity to compete at the International Pageant, in Orlando, Florida for the National Title of NATIONAL AMERICAN MISS for her age division. She will also have the opportunity to compete for several International Titles through The iam Convention. It's your chance to make memories that last a lifetime.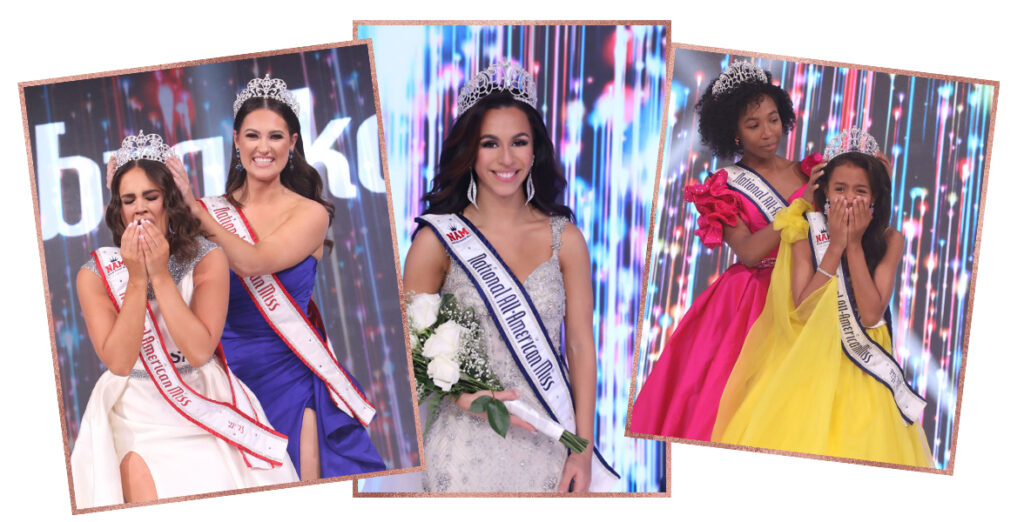 Below are the states eligible for the Appointed Representative Program (this is subject to change if a state needs to cancel due to unforeseen circumstances):
Alaska- All Age Divisions
Connecticut- All Age Divisions
Delaware – All Age Divisions
District of Columbia – All Age Divisions
Hawaii- All Age Divisions
Idaho – All Age Divisions
Maine – All Age Divisions
Massachusetts- All Age Divisions except Teen
Montana – All Age Divisions
New Hampshire- All Age Divisions
Oregon – All Age Divisions
Puerto Rico – All Age Divisions
Rhode Island – All Age Divisions
Vermont- All Age Divisions
Washington – Princess, Jr.Pre-Teen and Jr.Teen Divisions
West Virginia – All Age Divisions
Wyoming – All Age Divisions

Community Service: 10%
Resume:15%
Photograph:20%
Personal Introduction Video:25%
Video Interview:30%

Total score of 90 to 100: eligible to be awarded a State Queen Title
Total score of 75 to 89: eligible to be awarded a City Queen Title
Total score of 0 to 74: will not be eligible to compete at NAM Nationals 2023 and will be asked to apply in 2024.


Community Service – 10%
At NAM we believe that the best leaders are servants first. We encourage all of our state and city representatives to get involved in their communities. We are asking that all applicants complete the following steps.  All applicants applying to represent their state or city at The iam Pageant Powerhouse Internationals 2022 are required to upload documentation of 2 or more hours of service.  Your submission should describe ONLY ONE Community Service Project. While you may have been involved in various projects and/or organizations, we want you to select the ONE recent (within the last 1-2 moths of your application submission) project or organization that you want to feature.
Resume – 15%
As a representative for National American Miss, we are looking for an outgoing, well-rounded, fun individual that will be a positive role model to others in her city, state, and community. We are looking for a young lady that embodies the vision of "Today's Girl."   All of the following will be taken into consideration when scoring your resume. Your resume should include the following (if applicable): name, grade, school, leadership experience, hobbies, interests, activities, awards and accolades, interesting facts about yourself, and pageant experience. Your resume should be 1 page maximum. Make it fun and creative!!
Photograph – 20%
Your picture will be scored upon its overall presentation, including the content as well as the quality and professionalism of the photo. We are seeking a bright, fresh, positive representative who communicates clearly. Your photo should reflect this. You should be the main focus in your photo. We recommend headshots or waist-up shots.
Personal Introduction Video – 25%
Dress in interview attire and create a 30 second video that introduces yourself to the judges include your name, hometown, where the contestant sees themselves in the future or something interesting about themselves. Have fun and be creative. Upload the video using the link provided on the official application.
Virtual Interview – 30%
The video interview is a casual interview with the goal of getting to know the candidate better. Dress to Impress!  Wear something that you would wear to an actual interview; examples include but aren't limited too; suit, dress, jumpsuit, or romper.  Anything that makes you feel confident with a touch of your own personality and professionalism. The interview will be age appropriate and there will be no right or wrong answer. The questions are designed to give you the opportunity to express yourself and for us to learn more about who you are. You will be scored based upon the interviewer's overall general impression, and your ability to confidently and competently convey your ideas, thoughts and personality over the course of the interview. The interviewer is looking for honest and original answers that effectively express your personality. Some questions may be drawn from your personal resume. It will be helpful for you to keep a copy of the resume you turn in with your application. Most importantly, relax, have fun, and be yourself! We will contact you to give you instruction on how to arrange a phone interview after we receive your completed application.


To fill out your application, go to www.namiss.com/application. Once we receive your filled out your completed application. (resume, community service, personal introduction video, photograph, and you have included your registration fee), then we will receive a conformation email and instruction to set up a virtual interview. When the phone interview has been completed, then your entire entry will be placed in the hands of the selections committee. The selections committee will review the elements of your completed application and score each portion of the competition. Then, the new state queen will be appointed along with the four runners-ups. The winner will be appointed the title of National American Miss for your state and will attend the National Pageant during Thanksgiving week in Orlando, Florida to compete for the National American Miss Queen's Title. The 4 Runners-Up will be given the opportunity to represent their state as a city queen and to attend the National Pageant to compete for the National All-American Miss Queen's Title.

This online form is designed as a one-visit upload; you will have it all done in one visit. Accordingly, you will not be able to go back to add to the content. So, prior to filling out this online application, please be sure to have the following items completed and ready so that you can submit your entire application prior to the  May 1st deadline.

Have all of these items handy before you click APPLY NOW to submit your official ARP Application. You will not be able to complete the application without submitting all items listed below:
$50 non-refundable registration fee
Your Contestant Information with all updated contact info
Upload of Personal Introduction Video (max of 30 seconds)
Upload of Resume (This can be any format; 1 page maximum)
Upload Photograph
The Organization's Information for which you volunteered for community service
A short description of the service provided
Type the "Full Description" of your project into a separate document, such as Word, so that you may later paste it into the "Full Description" field on the form.Remember, there is a 50 word minimum and a 150 word max for Princess and Jr. Pre-Teen and 300 word max for Pre-Teen, Jr. Teen, Teen, and Miss. (At least one picture and/or a video link that you wish to share)

Click on your age division to APPLY NOW:
May 1, 2023 is the deadline to have your application submitted for the state queen's title. We will continue to accept applications after May 1, 2023, for any remaining state or city titles still available.


Participants in National American Miss (NAM) state-level events must meet NAM's residency requirements. All NAM residency rule and requirements can be found at www.namiss.com/residency. The documents must display the name of the applicant or the applicant's legal guardian and be valid on the date of application to the Appointed Representative Program.
National American Miss shall be the sole judge and determinant of an applicant's residency. If the applicant, or actual contestant, cannot supply the necessary documents to show residency, then the application may be refused, participation may be denied, fees may not be refunded, and / or titles and awards may be revoked.
An applicant whose custodians reside in different states, and have a written joint legal custody arrangement, shall have the option of registering in either state. This also pertains to attending college, or a university in another state rather than the contestants home state.  But in any case, the applicant may participate in only one NAM state level event per year. To be considered, any questions concerning residency must be sent in writing by email. Inquiries must include complete contact information for the inquirer and specific questions regarding residency of a given applicant. Inquiries must be sent to the Appointed Representative Director at appointed@namiss.com Subject: Residency.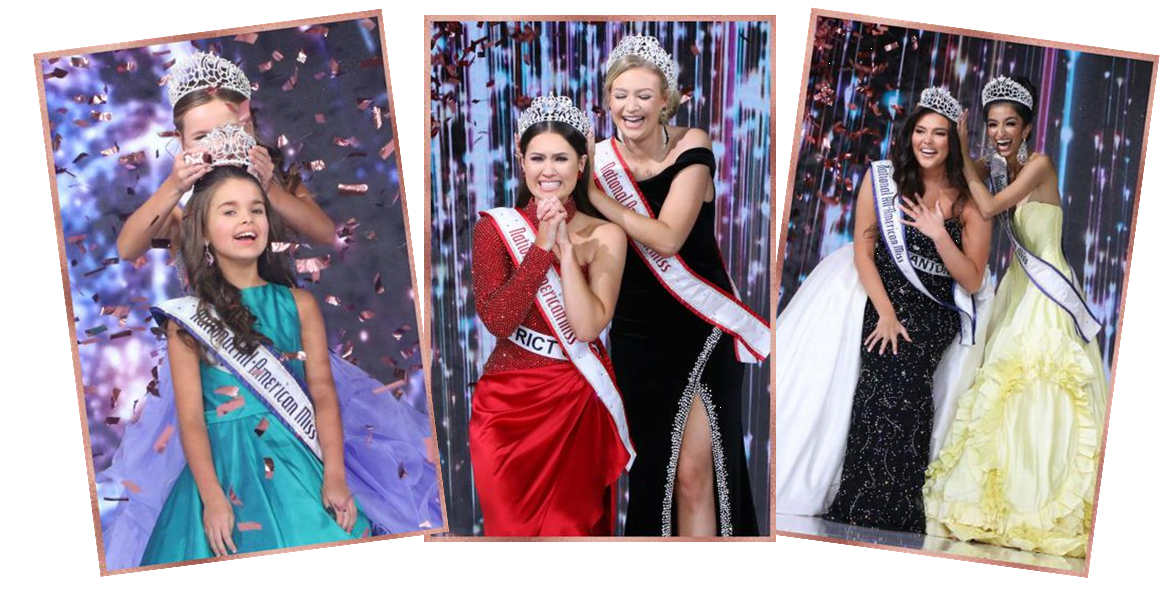 If you are chosen to be the state queen for your age division, then you will receive a packet of information to help you get started preparing for the National Pageant in Orlando, Florida over the week of Thanksgiving. Please note that all state queens are expected to represent their state at the National Pageant. One state queen from every state, in your age division will compete to win the National American Miss Title. As a state queen you will have the opportunity to travel to state pageants to visit and help out with the pageants. As visiting royalty and with the help of the National American Miss Appointed program team, you will become more acquainted with our program, and it will help you understand what the pageant experience is really like at nationals. If you are chosen as a state queen, then you may choose to be crowned on stage at your state pageant (if there is a pageant in that state but not that age division) or at a state pageant close to your state. We want you to have the exciting opportunity to be a part of a state pageant and be crowned on stage.
If you are chosen as one of the four state runners-up, then you will be given the opportunity to represent your state as a city queen and be eligible to compete in the National All-American Miss Pageant. This pageant is held at the same time as the National American Miss Pageant and a new National Queen will be chosen for each age division in the National All-American Miss Pageant.
The Appointed Representative Program is run completely through the NAM National Office. If you have any questions or concerns please email us at appointed@theiampowerhouse.com
May 1, 2023 is the deadline to have your application submitted for the state queen's title. We will continue to accept applications after May 1, 2023 for any remaining state or city titles still available.

May 1st: Application submission deadline to be guaranteed a chance at the state queen title.
May 2nd to October 5th: Application submission being accepted for all remaining state and city titles still available. No ARP applications will be accepted after October 5, 2023.
May 15th: All ARP results submitted by to May 1, 2023, deadline will be announced.
October 5th: Final day to submit a new ARP application.