Appointed Representative Program
Want to be a part of National American Miss, but you thought you were too old for all the fun? National American Miss is now accepting applications for girls ages 19-24!!! Do you live in a state that we do not currently hold a state event, but you are between the ages of 4 and 24? This is your chance to represent and serve your state all year long as National American Miss State Royalty!
National American Miss is the largest pageant in the nation for young women. We are so excited to extend an invitation to you to be a part of our program! At this time, we are not offering a program in your state for your age group. However, we hope you will be a part of our Appointed Representative Program. The girl that is selected as the State Queen will be given the opportunity to compete at the National Pageant, in Hollywood California for the National Title of NATIONAL AMERICAN MISS for her age division. It's your chance to make memories that last a lifetime.

June 1st is the deadline to have your application submitted for the state queen's title. We will continue to accept applications after June 1, 2020  for any remaining state or city titles still available.
Deadline for Noth Texas applicants is June 30, 2020
Deadline for California, Oregon, and Washington is July 10, 2020
Deadline for New York is July 31, 2020
Deadline for Kansas and Missouri is August 10, 2020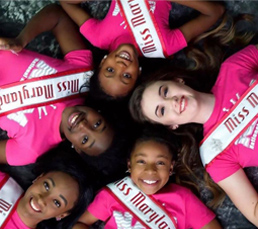 Appointed Representative Applicants Scoring System:
Phone Interview: 30%
Personal Introduction Video: 20%
Resume: 20%
Photograph: 20%
Essay: 10%
Over $500,000 in cash and prizes will be awarded at Nationals…
including a brand new Ford Mustang Convertible
Areas of Competition
Video Interview – 30% The video interview is a casual interview with the goal of getting to know the candidate better.Dress to Impress! Wear something that makes you feel confident with a touch of your own personality.   The interview will not have questions with a right or wrong answer. The questions are designed to give you the opportunity to express yourself and for us to learn more about who you are. You will be scored based upon the interviewer's overall general impression, and your ability to confidently and competently convey your ideas, thoughts and personality over the phone. The interviewer is looking for honest and original answers that effectively express your personality. Some questions may be drawn from your personal resume. It will be helpful for you to keep a copy of the resume you turn in with your application. Most importantly, relax, have fun, and be yourself! We will contact you and arrange a convenient time for your phone interview after we review your essay, resume, photo and registration fee.
Resume – 20% As a representative for National American Miss, we are looking for an outgoing, well-rounded, fun individual that will be a positive role model to others in her city, state, and community. We want a girl that embodies the vision of "Today's Girl." Make it fun and creative!! All of the following will be taken into consideration when scoring your resume. Your resume should include the following (if applicable): name, grade, school, work experience, hobbies, interests, activities, awards and accolades, interesting facts about yourself, and pageant experience.
Essay – 10% – Using 250 words or less, write  an essay using the prompts listed below. We are looking for overall effectiveness, neatness, punctuation, grammar, originality and creativity.
Princess, Jr. Pre-Teen, and Pre-Teen – "I am…"  In 250 words or less, using the statement "I am…" Introduce yourself to the judges, tell them your interests, ambitions and dreams. Use fun facts, be creative and introduce yourself to the NAM world.
Jr. Teen, Teen, and Miss – "Charity of Choice Statement" In 250 words or less choose a charity of your choice, write a statement explaining why you chose this charity and how will you promote your charity  of choice in your community, as the NAM state representative.
Photograph – 20% Your picture will be scored upon its overall presentation, including the content as well as the quality and professionalism of the photo. We are seeking a bright, fresh, positive representative who communicates clearly. Your photo should reflect this. You should be the main focus in your photo. We recommend headshots or waist-up shots.
Personal Introduction Video – 20% Dress in interview attire, and create a 30 second video that introduces yourself, to the judges include your name, hometown, where they see themselves in the future or something interesting about themselves. Have fun and be creative. Upload the video using the link provided on the official application.
Here's How It Works
To fill out your application, go to www.namiss.com/application. Once we receive your filled out resume, completed essays, personal introduction video, and you have included your registration fee with your photograph, then we will call you to set up a phone interview. When the phone interview has been completed, then your entire entry will be placed in the hands of the selections committee. The selections committee will review the elements of your completed application and score each portion of the competition. Then, the new state queen will be appointed along with the four runners-ups. The winner will be appointed the title of National American Miss for your state and will attend the National Pageant during Thanksgiving week in Anaheim, California at Disneyland to compete for the National American Miss Queen's Title. The 4 Runners-Up will be given the opportunity to represent their state as a city queen and to attend the National Pageant to compete for the National All-American Miss Queen's Title.
More Than One Way To Win
If you are chosen to be the state queen for your age division, then you will receive a packet of information to help you get started preparing for the National Pageant in Anaheim California over the week of Thanksgiving. One state queen from every state, in your age division will compete to win the National American Miss Title. As a state queen you will have the opportunity to travel to state pageants to visit and help out with the pageants. As visiting royalty you will become more acquainted with our program and it will help you understand what the pageant experience is really like at nationals. If you are chosen as a state queen, then you may choose to be crowned on stage at your state pageant (if there is a pageant in that state but not that age division) or at a state pageant close to your state. We want you to have the exciting opportunity to be a part of a state pageant and be crowned on stage.
If you are chosen as one of the four state runners-up, then you will be given the opportunity to represent your state as a city queen and be eligible to compete in the National All-American Miss Pageant. This pageant is held at the same time as the National American Miss Pageant and a new National Queen will be chosen for each age division in the National All-American Miss Pageant.
The Appointed Representative Program is run completely through the NAM National Office. If you have any questions or concerns please email: Candice Davis, NAM Appointed Representative Coordinator at appointed@namiss.com. June 1 is the deadline to have your application submitted for the state queen's title. We will continue to accept applications after June 1st  for any remaining state or city titles still available. * Deadline for North Texas applicants is June 30th. *Deadline for California, Oregon and Washington is July 10, 2020 *Deadline for New York is July 31, 2020 *Deadline for Kansas and Missouri is August 10, 2020
NAM Nationals, By the Numbers:
National Queen Titles: 12
National Cover Miss Titles: 6
National Optional Titles: 42
National Program Participation Titles: 87
Trophies: 2,272
# of Cash Awards Given: 180
Crowns: 262
Banners: 355
#of  awards given: 630
Staff Members: 40
National Judges: 42
High Tech A/V Crew: 6
Entertainers: 4
Stages/Ballroom: 2
Rehearsal Rooms: 4
Meeting Space: 68,000 sq. ft.
Final Shows: 11
Total Audience: 5,722
Roses: 1,940
Hollywood Tour Busses: 23
New Ford Mustang Convertible: 1
Thanksgiving Turkey served:one half ton