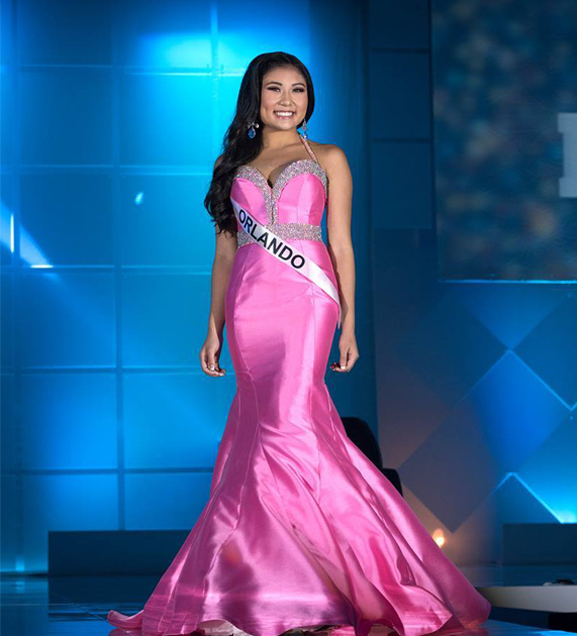 Official Rules for the Formal Wear Competition
Jr. Teen, Teen & Miss:
Select a prom or formal dress that is appropriate for your age and personality.
The dress may be any length and any style.
Shoes should complement the dress. Make sure you can walk confidently, smoothly and safely in your shoes.
Makeup must be age-appropriate.
Princess, Jr. Pre-Teen & Pre-Teen:
Select a formal dress that is appropriate for your age and personality.
The dress may be any length and any style.
No bare midriffs.
Shoes should be small heels or flats which complement the dress. Make sure you can walk confidently, smoothly and safely in your shoes.
No noticeable makeup.
OUR EXPERIENCED PANEL OF JUDGES SCORE CONTESTANTS IN THE FOLLOWING CATEGORIES:
Formal Wear (25%)
Formal Wear counts for 25% of your Required Competition score. The judges are looking for a representative that is proud and comfortable with who she is and how she presents herself on stage. Scores are based on the judges' overall impressions, and the contestant's ability to command both the judges' and the audience's attention in a poised, graceful, and professional manner.
​Choose a dress that reflects your unique personality. The color and style are your choice. The dress should help you feel confident and excited about the special person that you are! Keep in mind that one of the hallmarks of National American Miss is "age-appropriate." While that perception may vary with every participant and every person's individual point of view, please keep in mind that if there is a question prior to the event if a given dress, on you, is stepping over the line, be aware that one or more judges may well have that same concern, and you may lose valuable score points from one or more judges.
​As you are introduced on stage, you will be escorted. Your father, grandfather, uncle, cousin, godfather or any other male friend may escort you on stage. This is such a great way to involve your male family members. If no one is available, we will be happy to provide an escort for you at no cost. Remember, escorts at Nationals must be dressed in a suit or a tuxedo. Formal military uniforms are also super!
Helpful Hints to Dress Your Best:
It's important to that you look and feel your very best at the pageant.  Remember you will do your best when you are in a dress that makes you feel like a winner. Be sure to choose a dress in which you can walk safely! For example, if your dress has a train, it may accidentally be stepped upon.
Be true to yourself. Don't try to be something that you are not. Whether you are athletic or outdoorsy, poetic or fancy, choose a dress that will reflect your personality and sense of style.
When deciding on a color for your dress ask yourself, "What does this color say about me and my personality?" There is not a perfect pageant dress color, so pick your personal favorite and one that complements your eyes, hair, and skin tone. Most importantly, choose the color that makes you feel confident and special.
Personal Introduction (25%)
Personal Introduction counts for 25% of your Required Competition score. During this competition, you will showcase your ability to speak effectively using a microphone and confidently and professionally present yourself on stage. Public Speaking is a skill admired by all.
Contestants will introduce themselves on stage, saying their:
name
hometown
state
where they see themselves in the future and/or something interesting about themselves.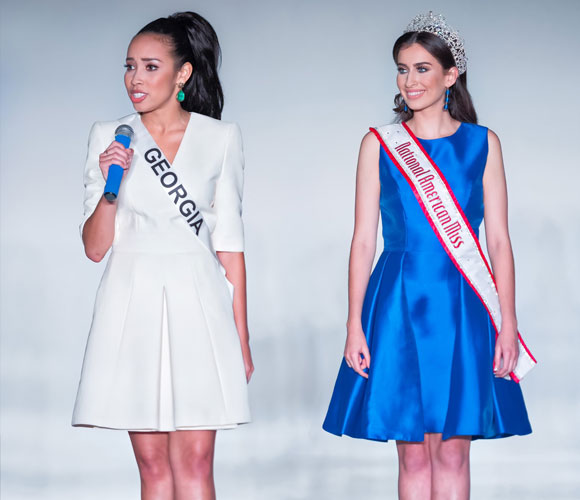 Interview (25%)
Interview counts for 25% of your Required Competition score.  This is the perfect opportunity to really let your personality shine through!  At National American Miss, the interviews are held one-on-one, with each of the interview judges. It is our goal to use this experience to equip each participant with valuable job interview skills.
You will showcase your interview skills of making good eye contact, speaking confidently, and sitting properly during an interview. In a very real way, you are interviewing for the "job" of representing not only your state, but your country. If you win the national title, you will be a representative of girls from across the country. Just like you, the judges would like for the new national representatives to be girls who are friendly, naturally enthusiastic, and effective communicators.
Each judge wants you to do well.  Their goal is to learn more about you, your ambitions, and your personality. They are looking for a representative who can engage in fun, intelligent conversation with an adult. They will not trick you, or ask you questions with a right or wrong answer.
Resume (15%)
As you undoubtedly know by now, National American Miss believes that each activity we provide should not only be fun, but also provide experiences that help equip you for life. We are now taking the next step in providing those real-life skill experiences. The national pageant resume is no longer a fill-in-the-blanks form. Prior to the pageant, the national pageant office will be providing you with a link by which you will download the resume template for your age group. Resumes used at the national pageant must be prepared from this template and must follow the guidelines shown on the template.
Ideally, preparing a resume is not a one-time thing. A resume is something that you will want to have in a file, on your computer at home, and continue to build and nurture over the years. If you already have been cultivating a resume, that's great! If you do not yet have one, then it is never too early to start, no matter what your age!
Check Out Our Optional Contest
For more chances to WIN!